Neil Young on Spotify with Howard Stern
Neil doesn't even say the dude's name. What even was that covidiot's name? Joel Broseph?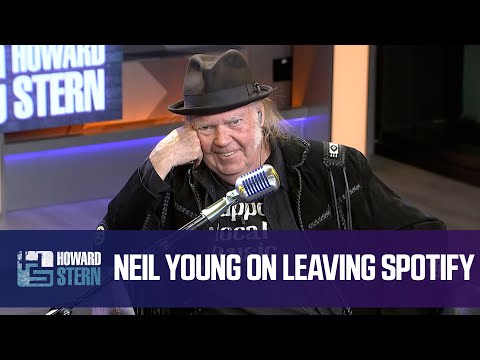 Et tu, M.I.A.?
Congratulations to 2022's biggest covidiots!
To be anti vaccine during a pandemic is bad enough, but to defend Alex Jones while promoting health harming misinformation? All while yearning for nuclear armaggedon? M.I.A. will forever be M.I.A. from our playlists.
You may be over it, but COVID isn't over you yet
COVID has been deadly and/or debilitating for the elderly and immunocompromised, but did you know that it doesn't harm just those groups?

Covid is currently the #3 cause of death in the US. In the first few months of 2022 Covid was the number one cause of death for all Americans aged 45+.

Those who contracted Covid early appear to be dying 10 years earlier than they should be.

Covid likely does irreparable damage to your body.

Exercising your immune system by getting sick with viruses does not strengthen it, it likely weakens it. The "hygiene hypothesis" which purports that we benefit from exposure to dirt and germs, does not appear to apply to viruses, but to bacteria. The new "immunity debt" idea (which sounds similar to the hygiene hypothesis), is likely wrong, unless we all need exposure to HIV, malaria and polio?

With that in mind, COVID continues to take lives. Here are just a few of our musical brothers and sisters who've lost their battles with this novel virus:

DJ Kay Slay, aka Keith Grayson, died on April 17, 2022 at age 55 after fighting COVID for 4 months.

Rapper and comedian Ricarlo Flanagan died on Oct. 12, 2021, at the age of 41.

Malaysian singer Siti Sarah Raisuddin was age 36 when she died in a Malaysian hospital on Aug. 9, 2021. Siti had been hospitalized after experiencing breathing problems related to COVID-19.

Jay Jay Phillips, of the band Mettal Maffia and who appeared on America's Got Talent, battling COVID-19 for a month, was found unresponsive "in the fetal position" in bed in December 2021. He was 30 years old.

Chris Trousdale, a member of the boy band Dream Street, passed away due to complications from COVID-19 on June 2, 2020. He was 34.

Broadway star Nick Cordero passed away after months of battling COVID. He was 41. He had been hospitalized for over 90 days after falling ill in early March 2020.

Bruce Williamson, The Temptations' former lead singer, died at his Las Vegas home at age 49 on Sept. 6, 2020.

Ty Chijioke, a Nigerian-British artist, was 48 when he died on May 7, 2020, having contracted COVID and pneumonia.

Rapper, Frederick Thomas, aka Fred the Godson, died April 23, 2020. He was age 35.